Blumenhofer Acoustics Manual
Handbuch für Blumenhofer Acoustics
Manuale di Blumenhofer Acoustics
The complete Handbook is still in draft status
Das Hanbuch ist immer noch als Entwurf zu betrachten
Il manuale è ancora in fase di revisione
8 - Aftercare
8 - Pflege
8 - Manutenzione
The cabinet surface usually only requires dusting.
After the first 6 months if your speaker has a wooden surface, could be necessary to oil them lightly. Please use a soft towel light damped with a special wood-hardening-oil. First distribute a subtle quantity of oil and then wipe the excess in the wood. Leave it drying overnight.
Avoid touching the drive units, as damage may result, which is not covered by warranty.
Die Gehäuseoberfläche der Lautsprecher muss in der Regel nur abgestaubt werden, dies am besten mit einem weichen Tuch oder einem weichen Feinhaarpinsel. Vermeiden Sie es, die Oberfläche mit Flüssigkeiten, insbesondere Reinigungsmitteln (z.B. Spülmitteln, Benzin oder alkoholhaltigen Mitteln) zu behandeln!

Falls Ihr Lautsprecher eine hölzerne Oberfläche hat, könnte es sich nach 6 bis 12 Monaten empfehlen, ihn mit Hartholzöl nachzuölen. Benutzen Sie bitte dafür nur ein weiches Tuch! Zuerst verteilen Sie das Öl mit dem Tuch vorsichtig und gleichmäßig (nicht zu reichhaltig) auf der gesamten Holz-Oberfläche, danach massieren sie das Öl in das Holz ein, entfernen den Überschuss und lassen es über Nacht trocknen. Vorsicht: Dabei nicht die Lautsprecherchassis beschmutzen; diese am besten vorsichtig abdecken!

Vermeiden Sie ohnehin möglichst, die Lautsprecherchassis zu berühren, da dies zu Beschädigungen führen kann, die von der Garantie nicht abgedeckt sind! Die Chassis einschl. Sicken höchstens regelmäßig einmal alle paar Monate abstauben; dies am besten mit einem weichen Feinhaarpinsel. Unbedingt vermeiden, die Chassis dabei hin- und her zu bewegen oder gar einzudrücken (hohe Beschädigungsgefahr)!!
La superficie della cassa di norma va solo spolverata.
Dopo i primi 6 mesi, in caso di casse con finitura in legno, potrebbe essere necessaria una leggera oliatura. Usare, allo scopo, un panno morbido leggermente imbevuto di olio da legno per il trattamento del legno. Scorrere il panno imbevuto in lunghi movimenti omogenei partendo dal basso verso l'alto. Ripetere il procedimento 2 o 3 volte. L'eccesso d'olio deve essere "massaggiato" nel legno. Lasciare poi asciugare durante la notte.
Evitate di toccare gli altoparlanti: potrebbe portare a dei danni non coperti da garanzia.
Per pulire gli altoparlanti usare con delicatezza un panno umido.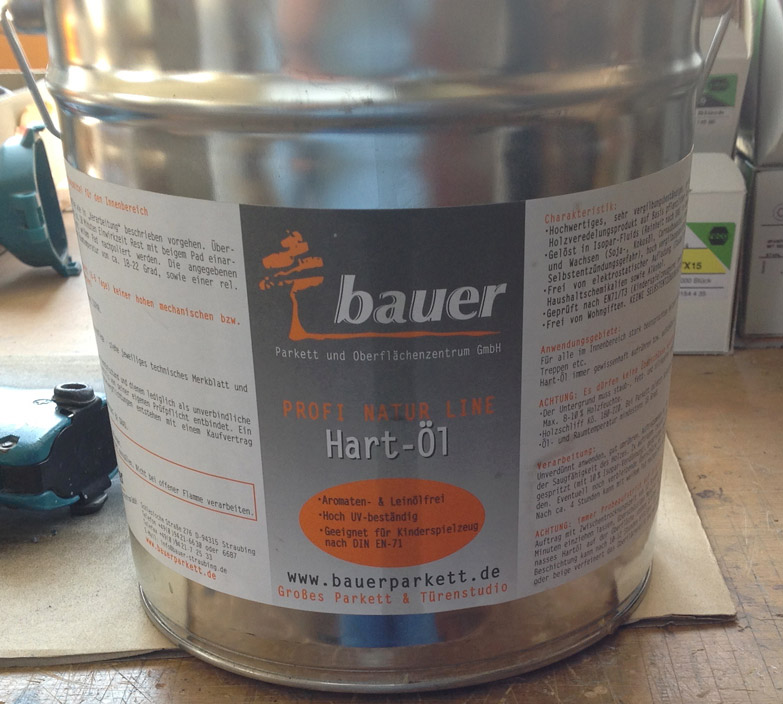 This is what we use in the production for surface treatment
Das benutzen wir für Oberflächenbehandlung in der Produktion
Questo è ciò che usiamo per il trattamento superficiale in fase di produzione
Q