Produktion 2009-2016
Produced 2009-2016
Produzione 2009-2016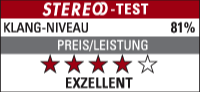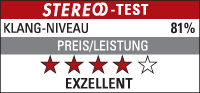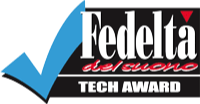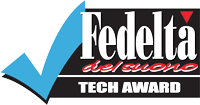 Bass horn Power: compact way with extraordinary musicality and powerful sound.
Bass Horn-Power: kompakte Erscheinung mit äußerst natürlichem und kraftvollen Sound.
La potenza del basso a tromba: anche in forma compatta estrema naturalezza e possanza
Speciale ed unica, la big Fun 17 e il solo diffusore con basso a tromba basato su

camera di compressione

che abbia anche dimensioni relativamente compatte. Le sensazioni che è in grado di trasmettere sono travolgenti e mettono l'ascoltatore al centro, davanti all'orchestra, olograficamente solida.

Avvicinatevi un passo in più alla realtà: big Fun 17, il divertimento!
Words of the press
Pressestimmen
Dice la stampa
Suonano chiarissimi e senza affaticamento.
Cambi di ritmo e passaggi melodici vengono presentati su un piatto da portata: hanno più emozione che con in diffusori normali.
Eccezionale vivacità e sonorità.
In toto la big Fun 17 è un compagno piacevole, si adatta a una vasta gamma di amplificatori.
È vivace, aperto ed emozionante.
Il basso è estremamente croccante, veloce, molto delineato e mostruosamente coerente.
Il medioalto è equilibrato ed adatto ad un ascolto a lungo termine.
Un esempio di un diffusore riuscito con un tempismo perfetto.
Superbo.
Non si comporta da zitella.
Le scene sono credibilmente grandi e presenti anche al centro.
Tipico di una tromba veramente buona: sovrana, diretta e divertente.
Durante l'ascolto mi sono sorpreso a sorridere di piacere [...].
Un'incredibile facilità nella produzione del suono. La naturalezza ha vinto sul resto.
A mio modesto, modestissimo avviso, questi diffusori non hanno uguali.
La superiorità di questi diffusori è tangibilissima.
Non ho fatto una prova, ho ascoltato musica... Vorrei capitasse più spesso.
Specifications of the big Fun 17
Spezifikationen der big Fun 17
Specifiche della big Fun 17
•
Alta efficienza
• Diffusore a
2 vie
Cabinet
• Cabinet con
basso a tromba
in camera di compressione
• Legno
multistrato di betulla
da 18mm
• Tromba del basso ottimizzata per flusso e risonanza in tutta la lunghezza
• Camera separata per il
filtro
• Irrigidimento estremo dei volumi e delle superfici
Componenti
• Driver a compressione da 1 pollice con membrana in Mylar
• Woofer da 17cm (6") con membrana
P2C
®
• connettori in rame tellurio placcato oro
Proprietà
• Terminali Single-Wiring
•
Linearizzazione d'impedenza
per il punto di cross over
• Curva d'impedenza piatta
•
Ideale per valvole
• 10 anni di garanzia
Technical data of the big Fun 17
Technische Daten der big Fun 17
Dati tecnici della big Fun 17
big Fun 17

Material

Material

Materiale

:

Birch plywood

Birke Multiplex

Multistrato di betulla

Thickness

Materialdicke

Spessore

:
18mm / 0,75"

Internal Bracing

Verstrebung

Irrigidimento

:

Structural bracing interaction

Strukturelle Interaktion

Interazione strutturale

Cross over chamber

Kammer für Frequenzweiche

Volume separato per filtro

:

Yes

Ja

Si

Frequency range

Frequenzgang

Risposta in frequenza

:
40Hz - 20kHz &plusmn 2dB

Bass Cabinet

Bass Gehäuse

Cabinet dei bassi

:

Bass horn

Basshorn

Basso a tromba

Horn typ

Horn Typ

Tipo di tromba

Compression chamber

Druckkammer

Con camera di compressione

Horn load

Horn Richtung

Carico a tromba

Floor

Zum Boden

A pavimento

Woofer

Tiefmitteltöner

Woofer

:
170mm / 6,5"

Material

Material

Materiale

:
Peek-Carbon
P2C® Sandwich

Cross over frequency

Übergangsfrequenz

Frequenza di taglio

:
1500 Hz

Midhigh

Mittelhochtöner

Medioalti

:

Compression driver

Kompressionstreiber

Driver a compressione

Horn Throat

Horn

Diametro tromba

:
1"

Membrane dimensions

Membranendimension

Dimensione Membrana

:
35mm / 1,4"

Material

Material

Materiale

:
Mylar

Max power input

Belastbarkeit

Potenza massima

(RMS):
100 W RMS

Efficiency

Wirkungsgrad

Efficienza

:
91 dB

Impedance

Impedanz

Impedenza

:
8 Ohm

Impedance linearization

Impedanzlinearisierung

Linearizzazione d'impedenza

:

Yes

Ja

Si

Terminal

Anschlussfeld

Terminali

Single-Wiring

Material

Material

Materiale

:

Gold plated tellurium copper

Vergoldetes tellurium Kupfer

Rame tellurio placcato oro

Feets

Füße

Piedi

:

Adjustable Spykes

Regelbare Spykes

Spykes regolabili

Dimensions

Maßen

Dimensioni

:
910 x 270 x 472 mm
36 x 10,5 x 18,5 in

Weight

Gewicht

Peso

:
25 kg

Packaging dimensions

Verpackungsmaßen

Dimensioni imballate

:
105 x 60 x 38 cm

Loudspeakers per carton

Lautsprecher per Karton

Pezzi pro cartone

:
1

Packaging weight

Verpackungsgewicht

Peso imballate

:
28 kg

Center Loudspeakers

Center Lautsprecher

Diffusori centrali

:
Center 17
Center 15
Dimensions of the big Fun 17
Abmessungen der big Fun 17
Ingombri della big Fun 17
Options of the big Fun 17
Optionen der big Fun 17
Opzioni della big Fun 17
Nella nostra falegnameria possiamo produrre qualunque tipo di finitura superficiale in nobilitato di autentico legno.
Standard sono Noce e Ciliegio.
In
questa
pagina è possibile vedere alcuni esempi di nobilitature.
È anche possibile avere anche una verniciatura superficiale opaca.
Picture Gallery of the big Fun 17
Fotos der big Fun 17
Immagini della big Fun 17
Home Cinema Components for the big Fun 17
Heimkino Komponenten für die big Fun 17
Componenti Home Cinema per la big Fun 17
Il legno è un prodotto naturale ed il suo colore e la struttura delle sue venature dipendono da tanti fattori e dalle zone di crescita. Quindi variazioni ed irregolarità della superficie non sono da considerarsi difetti ai fini di un reclamo.
The hand painted
big Fun 17
Die Handgemalene
big Fun 17
La big Fun 17
dipinta a mano
Reviews
of the big Fun 17
Reviews
der big Fun 17
Tests
della big Fun 17