News about Blumenhofer Acoustics
3 May 2012, 10:00
CDs
In cooperation with
STS-Digital
, we produced the Groove into Bits Vol. 1 CD.
We already informed You about this project.
It was extraordinary and it has borne by chance.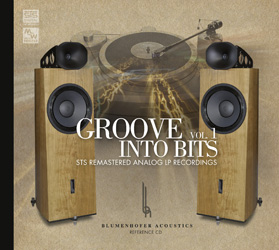 We met in Walkertshofen last September and started listening for music of all kinds. Of course on LP. Spontaneous was the question… why don't we master it to a CD trying to keep the analog feeling of the turntable. Then, the task was set, how to perform it? Simple? Conny Englmeier started playing DJ, Fritz connected his Marantz mastering equipment, Lars set up the Kanzy power amplifier, and Tom connected our Wiki: if we need a monitor speaker why not the best one available? Marco had a Acoustic Signature Ascona with an SME tonearm and a Soundsmith cartridge in the trunk of the car. The setup was done. The songs were chosen and we started the recording process. It took us a longer time than expected but was fun. After hours we were eating in the restaurant and René suggested to name it after the project: Grove into Bits was what we did. From LP to CD. Extraordinary.